In Salon Services
Salon Signature Rituals
Sitting in your hairdresser's chair, you wish you could extend the head massage a few moments longer. We've designed a series of signature hair rituals around this moment.
As craftsmen of hair care experiences, we've prolonged the beloved scalp massage, included gentle gestures to help release tension, incorporated subtle scents to transport you with eyes closed.
Based on your chosen ritual, your hair and scalp are indulged in a delicate yet thorough sequence of caring gestures, deeply treating hair from root to tip. Discover the rituals menu and find your nearest salon to book your visit.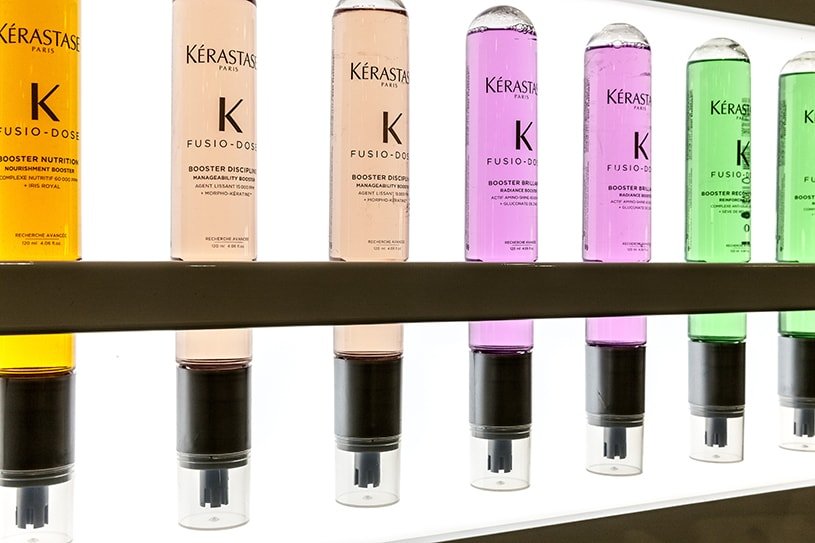 The signature Fusio-Dose ritual is the most personalized service Kérastase offers and is exclusively available in salons. With up to 20 possible pairings, the results are instant and can target 2 key hair concerns including dryness, damage, frizz, density and dullness.
"
There's nothing else like it. Blowdries are great, but a blow-dry after a Fusio-Dose means my hair looks shiny and repaired even after several washes.
"
MAGGIE, 28, LONDON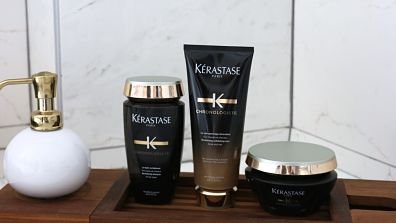 Chronologiste: Regeneration
Designed for those looking for the ultimate indulgence for their hair, Chronologiste works like a miraculous elixir to purify and revive lifeless hair. It features the signature mimetic caviar pearls that are mixed into the mask moments before applying. The scalp is regenerated and soothed, hair feels toned, strengthened and repaired, locks are silky and glowing with newfound volume.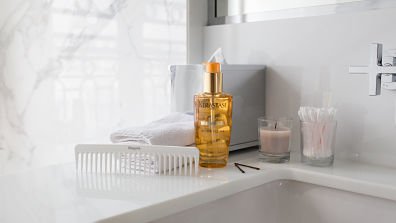 Elixir Ultime: Sublime Shine
To experience all that precious oils have to offer, this ritual performed in 5 acts uses the media darling Elixir Ultime Oil to create a series of blends tailored to your hair. A relaxing massage and a custom oil zoning technique facilitate the penetration of the oil's active ingredients for hair that is more resilient, softened and infused with natural shine.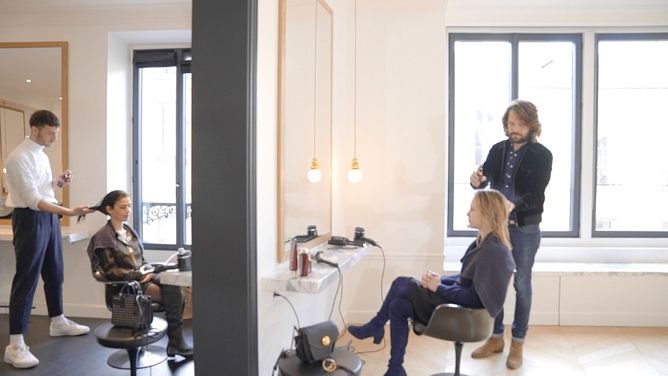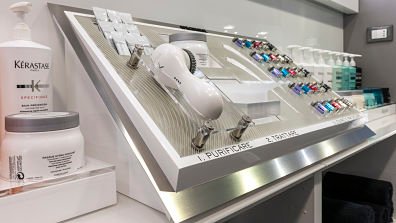 Hair Detox: Anti-Polution Ritual
Proper care of the scalp is too often neglected despite being the root cause of many hair concerns including oily hair, hair loss, dandruff and itchiness. The polluted environments we live in make matters worse. The hair detox protocol features a signature Double Cleansing gesture featuring the deeply purifying clay-based Masquargil and sonic cleansing using the Clarisonic scalp brush designed for this salon-exclusive Kérastase treatment. The finishing touch: a generous massage featuring Masque Appaisant, a renewing gel cream designed to enhance scalp and hair quality.
Spécifique: Scalp Care Protocols
We've perfected our historically advanced scalp knowledge and turned it into spa-inspired salon protocols by creating this caring series designed to target 3 major scalp concerns: dandruff elimination, scalp sensitivity relief, hair loss prevention and oily scalp detoxification. Each unique concern is treated in 3 steps, including the micro-targeted application of the Kérastase scalp cures using the Micronizer to deliver unparalleled efficacy. The combination of these gentle gestures, precise applications and highly performing products through the caring hands of our expert hairdressers ensures a healthy scalp and durable results.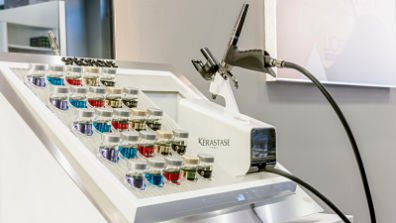 The 3 Scalp Care Protocols
Dandruff Elimination Protocol
Helps eliminate dry and oily dandruff flakes - Purifies the scalp - Stimulates biological scalp activity for better scalp quality - Hair is soft, weightless and radiant
Soothed Scalp Protocol
Soothes scalp discomforts such as burning, redness, itchiness and tingling - Eliminates scalp impurities - Alleviates, refreshes and moisturizes the scalp - Hair feels revitalized, light and supple
Hair Loss Control Protocol
Stops premature follicle aging - Stimulates biological scalp activity for better scalp quality - Regenerates hair's metabolism - Texturizes hair for immediate volume and fullness
RENDEZ-VOUS AT THE SALON
Far more than the place to get your root touch-up or an occasional trim, book an appointment at your nearest Kérastase salon for a complimentary personalized hair diagnosis or ask your hairdresser about the signature and salon-exclusive Fusio-Dose treatment. You can also stop by anytime to browse and shop the complete Kérastase range, no appointment necessary.